Custom  T Shirt Printing Prices
Check Our  Custom Shirt Prices for Both Full Color Direct to Garment and Screen Printed Shirts
Graphic Impact is a provider of custom printed t shirts.  Screen printed custom t shirt printing prices are compared to digitally printed prices.  The table shown below shows the estimated custom t shirt prices for our most popular shirt.  A year-round essential and our best-selling custom t-shirt that has been voted "most popular" by groups, teams, clubs and schools across America.  Dozens of colors are available.  Custom T shirts Printing Prices are shown for sizes small to x-large.
If you are ready to proceed click here to design your shirt, click here to down-load your file or call our customer service department at 520 795-7446 to place an order or confirm prices.  Our custom shirt prices are given below.
Order Now! Get Your Printed Shirt & Hoodies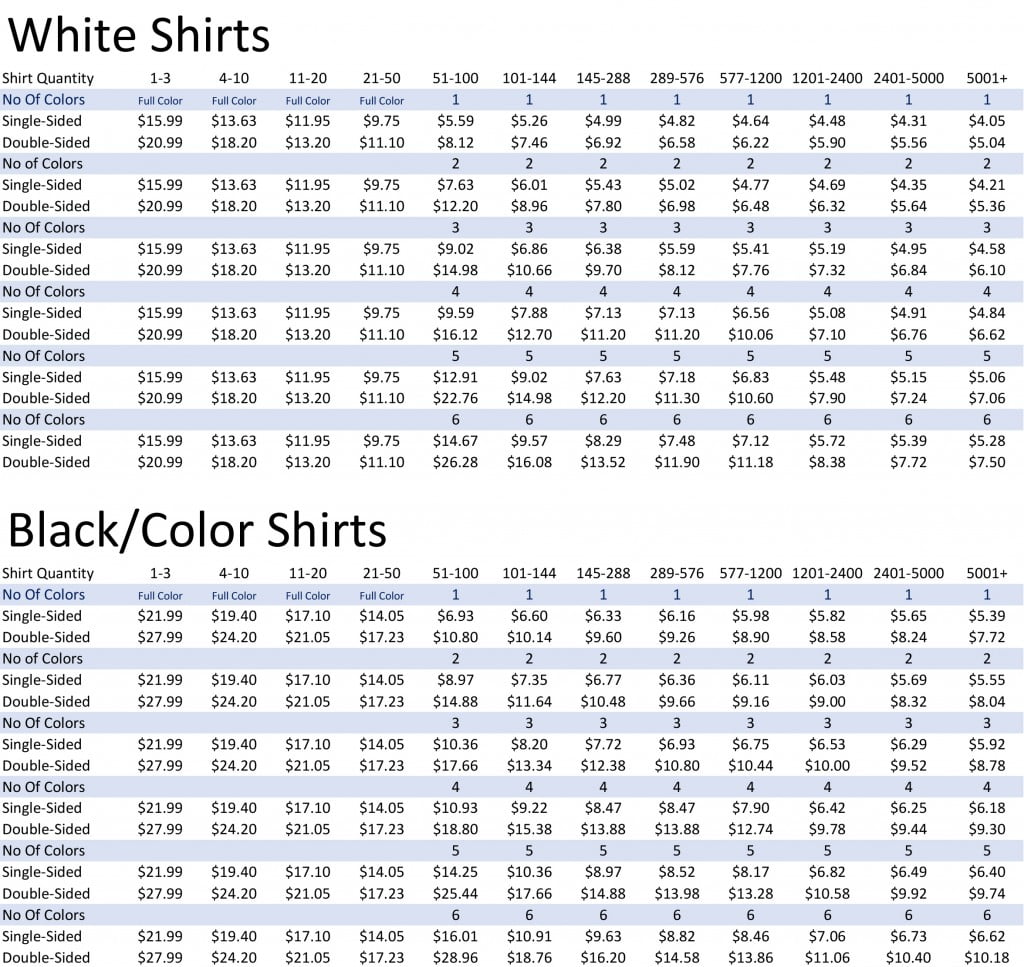 Here Are Some of the Most Common Questions About Custom T Shirt Pricing and Printing
How are you able to provide from 1 to 10,000 shirts without set-up cost and screen charges?
We have both full color digital shirt printing (a certified green process) and some of the best high resolution screen printing capability in the industry. Having both processes, we always make the best and most economical choice for our clients and never have any additional set-up costs.
Why do you say your prices are estimates?
We know from our many years of experience that you might prefer a different type of shirt or larger sizes.  The custom t shirt prices may differ slightly but you can always be sure you will receive the lowest possible price and we're not afraid to show you right here on our website.
Why do you manufacture almost all of your products on-site?
We learned early on that others could just not meet our quality standards. Sometimes they came from China or other off shore locations, they took forever to be delivered and many times the colors were just not correct. We find that we can save our clients money and manufacture items right here in Tucson. Additionally, we try to save our environment whenever possible and use inks and substrates that are environmentally friendly.
Do you save my file after I place an order?
Yes, usually for at least two years and normally by order number. It never hurts to tell us that you'll be reordering and, if you'd like, we would be happy to give you a reminder call. Just ask!
How about delivery? How long does it take for you to finish my job?
Smaller quantities printed digitally (our most popular item) are normally ready in 1-2 business days, larger quantities over 125 if they are only 1 or 2 colors can be screen printed to save you money and may take longer.  We will be happy to quote an exact completion date,  just give us a call.  There are shipping choice available from overnight delivery to regular mail.
What Does Full Color Mean?
If you are familiar with the printing field, you know that when you order a brochure it is delivered to you in photographic realistic color.  Currently there is only one shirt printing press that is completely automated and can print the unbelievable color on white and dark color fabrics.  This is the equipment used by Graphic Impact.